Yacht Accommodation in Singapore
Usually, when people think of holidays, they may choose staying hotel in a major city or having a cruise in the sea.  Most of the time they will think of hopping aboard a luxury vessel and then travel to some far-off and exciting destination. Having experienced what it is like to take a vacation aboard a sailing vessel, you may no longer find it exciting as the novelty wears off.  Perhaps you may want to try some other alternatives that will help take you to various destinations where you can visit some regional ports of call to broaden your horizons.
Intrepid and Adventurous Sailors
Going even beyond this, there is another option awaiting the more intrepid and adventurous sailors. A yacht charter vacation is what you should consider if you want to make your vacation more exciting and adventurous. That means instead of hotel accommodation, stays on board the private cruise instead.
There are in fact two different kinds of yacht charter vacation (private) that you need to choose from and which include chartering an entire yacht for your own personal use or there is also a general charter where you take your vacation aboard the yacht with other like-minded travelers like you.
For couples or a small family, a yacht charter vacation is affordable, especially for those that are just thinking about hiring a cabin aboard a yacht. Of course, it means having to share the yacht with others, but it also gives you a chance to mingle with others and become part of one large and happy family of fellow vacationers. However, if you can afford, you will want to hire the entire yacht and so enjoy your yacht charter vacation with only your near and dear ones.
You will also need to select a suitable yacht. There are many different options to choose from including catamaran yacht, classic yacht, motor yacht or sailing catamaran yacht.
Kingdom – Catamaran yacht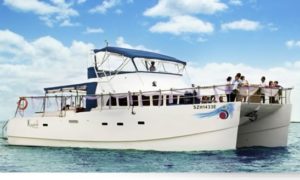 It can accommodate up to 35 pax. But if your purpose is to stay on-board instead of hotel accommodation, then a smaller group will be better.
The Kingdom is equipped with 2 double cabins with en-suite facilities, 2 single beds and 2 large bathrooms. For safety, it has a net feature around desk which no other boat offers – this is extremely important for children on-board. Apart from these, it is attached with a fully functional BBQ pit with dedicated service crew.
Clipper Heritage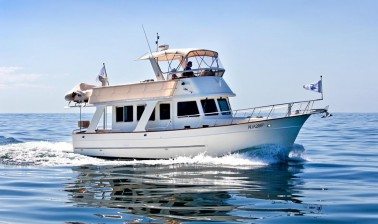 This is a classic yacht that can accommodate up to 18 pax. It is equipped with one master bedroom with a queen size bed and a guest room with twin beds. It also has a common bathroom.
As the Clipper Heritage is of a smaller size compared to the Kingdom, we would suggest for accommodation purpose especially for family, it should not more than 10 pax.
Home Away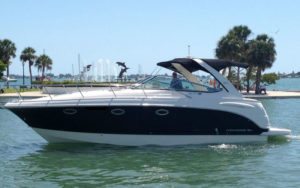 This boat is best use by a small family of 4-6 pax. It comes with a master bedroom with a queen size bed. It is attached with a common bathroom, plus a gallery with fridge, twin hob and microwave
SunRise


SunRise is a 40 ft catamaran sailing yacht with a maximum capacity of 18 pax. In term of accommodation, it is comparable with the Kingdom. Similarly, it is equipped with a master bedroom with a queen size bed, and a guestroom with 2 single beds. However, this boat has only 1 bathroom and a bathing platform with hot/cold hand shower
As you can see, the fleet of private yacht we have, is equipped with the necessary accommodation facilities if you choose to hire any one of them to sail around the regions. For example, you can cruise to Port Klang in Malaysia, dock and then take a taxi to Kuala Lumpur for a short shopping trip.
Sail with us today!